Sustainable IT Solutions
Solutions For the Professional
Sustainability Leader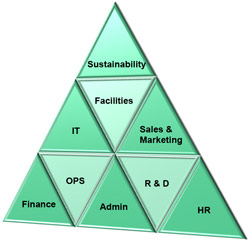 The Sustainability Executive is responsible to deliver plans and results to meet the enterprise's sustainability goals. Working with multiple stakeholders, you are dealing with all aspects of sustainability. Sustainable IT provides a unique challenge because it crosses organizational, cultural and geographical boundaries. Using the GreenIT 360/365 methodology can provide a framework for both achieving short term results and creating successful long term plans. Seminars such as Green IT 21 can help bring all participants to a common level of understanding of sustainability issues. And when tackling large projects, existing resources can be augmented with Integrated Facilities Design or Business Process and System Design services.
Information Technology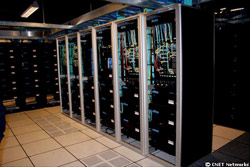 With increasing market pressure to "go green", IT professionals may find they are given aggressive but vague sustainability targets with no clear objectives or budget to achieve them. Because of its central role to the enterprise, IT is often given the role of facilitator to bring together all departments with a unified sustainability plan. Senior management may ask IT to launch innovative technologies to facilitate changes in organizational behavior. Whether the goal is to reduce energy consumption or help formulate policy for reducing e-waste and u-waste, GreenIT Roadmap can help an organization get started with a sustainability program by baselining current performance. For getting your arms around the basics of sustainable IT, the GreenIT Building Blocks seminar can jumpstart your organization. And when it comes to reengineering your IT plant or putting your sustainable IT plan into practice in a new building, IT System Design, IT Infrastructure System Design or Integrated Facilities Design services can help make your implementation a success.
Purchasing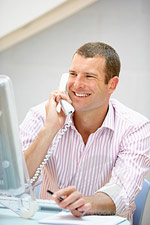 Whether you are the purchasing professional chartered with creating the Environmentally Preferable Purchasing Policy for ICT, or the vendor responsible for writing the EPP section of an RFP, understanding the mechanics and trends of Sustainable Supply Chain management is critical in today's marketplace. The Buy Green, Be Green seminar can help your organization understand the rudiments of RPP. Push the Green Wave trains you to recognize ways in which your products fulfill sustainability requirements. If you are looking for help in constructing new EP purchasing policies and business systems, EPP for IT Systems consulting services can smooth the way from planning to implementation.
Facilities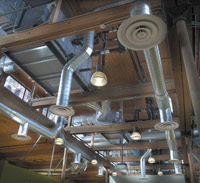 The Facilities manager is essential to the success of any Sustainability Program, but often must work with multiple parties with conflicting objectives to meet overall goals. Meeting targets for HVAC reduction or space consolidation will require significant initiatives in Information Technology. Inter department education is one way to get all the stakeholders on the same page. A good first step is the Green IT 21 or GreenIT Building Blocks seminar. When plans and goals become more clear, the GreenIT 360/365 service package can coordinate multiple organizations to create and execute plans for IT renovation. Services such as Integrated Facilities Design, Business Process and System Design or Eco-Innovation Planning and Project Management can be employed for short term projects or long term planning.
CxO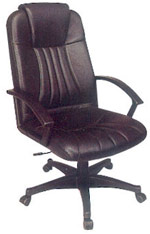 Executives know that demonstrating eco-responsibility to their shareholders, partners, and customers is a key to being competitive in today's marketplace. Enterprises that strive to rise above the "me green too" pack and take a leadership position need to approach their sustainable business practices at a systemic level and employ innovative methods of Information and Computer technology to differentiate themselves. Savvy leaders realize that reducing energy and waste help the bottom line, too. The GreenIT 360/365 service package is designed to take an organization through the entire process of assessment, planning and execution of a Sustainable IT plan, with emphasis on achieving short term results while laying down long term plans for efficiency and innovation. Whether providing basic training with the Green IT 21 seminar or helping redesign process using Business Process and System Design consulting services, GreenIT partners with small and large organizations to get their Sustainability programs off the ground.